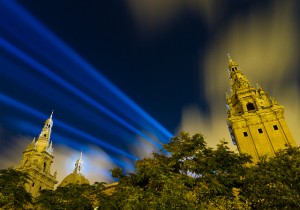 Recently, a newbie wine blogger contacted me through Twitter to evaluate their post for general effectiveness. I promptly agreed, generally trying my best to help the community whenever possible, especially with someone new to the field. Quickly clicking on the link, I encountered 2 of the largest mistakes I typically see with new blogs, not to mention, 2 of the easiest things to fix. But when trying to explain how to remedy the situation, I also learned that they weren't obvious to your everyday blogger. So for the sake of helping a larger audience, I thought I would post some best practices here.
Basically what I'm offering is some standard SEO, or Search Engine Optimization. Nothing advanced and nothing tricky, just some best practices to make sure you are optimizing your site to get the most traffic possible. With a few simple steps, your wine blog, or website, can be more effective. The irony is that these simple steps are DEAD simple and can give you big results. So let's start! Today, I'll focus on images and tomorrow I'll focus on links.
Images: Images are great for explaining ideas and giving context. That said, if you don't optimize your image, Google and the web in general, won't see it. The robots Google uses to read content on your site are basically blind. They are great at reading content but not at looking at images. Therefore, we need to help them out. All modern web tools let you add images easily, and most will also let you add some key elements to those images that help your site.
For the sake of explanation, I'm going to use the WordPress blogging platforms tool as an example. See the image below? When you upload an image to wordpress, it allows you to add a Title,  Alternate Text, Caption, Description and URL. They key pieces you should be fill out and be descriptive are the Title, Alt Text and URL.
Title: use a simple description. If you have a wine bottle photo, the title might be the name of the wine. If it's a picture of a vineyard, name the vineyard and be descriptive. Just titling it "Vineyard" doesn't help anyone. Better to go specific "Merlot Vines – Chateau Bleu".
Alt text: This is the text that will show up on a person's computer screen if their computer can't load the photo, allowing the reader to understand what the photo is supposed to be. So building on "Merlot Vines – Chateau No-Se-Que", you might add here a description of the time of year: Fall, Spring, or maybe even the activity if any in the photo: harvest, pruning, veraison under way. In short, be descriptive.
URL: make sure to link to the photos source or to the photo itself. This way you can credit the photographer, or you can link to a larger version which might help the reader to see the image better. I'll explain more about why links are so important soon, but the truth is that the web does not exist without links. Make sure you use them!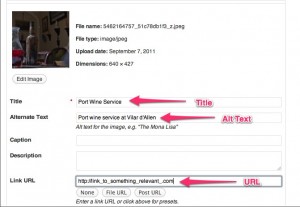 All that said, pictures make your posts look pretty! Thus, use photos that illustrate and help guide the story. A picture of a bottle is one thing, but a picture of the place the wine was made can be even better. Also remember that people's faces can be very helpful. If you are talking about a person try your best to get an image of them.
Finally where do you get photos? Well you don't steal them. Make sure if you post a photo you have permission first. It's illegal to use photos that are copyrighted without permission from the photographer. A great tool you can use to find fabulous photos is Creative Commons. It's a legally enforceable copyright that allows the artist/photographer to have their photos used in certain situations. I, personally, license all my photos this way, allowing you to use my photos as long as you do so non-commercially, and you give me credit.
Where do you find these? Well you can browse my photos here: Ryan Opaz's Wine Photos on Flickr and you can search for other photos that are licensed this way here: Flickr's Creative Commons Galleries.
Mind you, this is the short version of how to use photos in your posts. I could go on and on, but would rather you ask some questions in the comments section below and I'll do my best to answer them for you!
Cheers,
Ryan Opaz
Coming soon, linking for wine for wine bloggers…