I tried a very brief experiment today.
I was off to The Wine Theatre in Southwark for lunch to meet a fellow blogger, Oliver Thring of Thring for your Supper. As I had not tried the restaurant before, but it billed itself as a wine destination, I was hopeful that there would be interesting wines to try. They have their food and wine menu available online (I can't believe all restaurants do not do this automatically), so it was easier to prepare.
Rather than choosing the wine myself, I opened up the choice to my followers on twitter and "crowdsourced" the choice – hoping they would be inventive, creative … and kind (and not force me to choose the most expensive wines). I'm a little busy with other tasks at the moment so I wasn't able to encourage lots of participation, but one follower (@philippav) did respond with some excellent suggestions, and mostly ones I would not have made myself.
The result was that we ended up sharing a bottle (I know, it was supposed to be a glass, but we did have starters AND mains) of a Barbera d'Asti 2007 called Teis from Ca'Bianca – a lovely, light bodied and fruity wine (though with great Italian acidity) that matched the mood and conversation perfectly (though you'll need to read Oliver's review to see how it matched the food).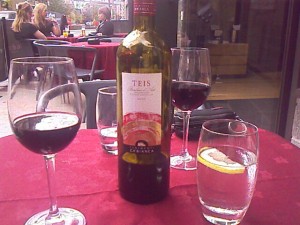 I wonder whether this is an interesting challenge for future outings; to allow certain choices in my vinous exploration to be dictated by a group of like-minded individuals and thus encourage greater experimentation – a little like "Yes Man" (but with wine, and more style – not that I've seen the film, but I somehow doubt I need to bother based on the cast and the trailer)
Based on today's results, it is at least worth repeating, but maybe with a little trepidation
Related articles by Zemanta