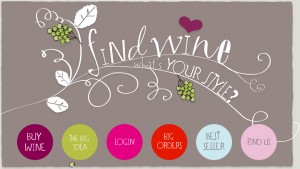 At the recent The Wine Gang Christmas Fair I had the chance to taste lots of wines and meet importers and wineries from around the world. One of the ones that stood out for me was a small online retailer looking to sell wines in a novel way: FindWine.co.uk
Most wines in this country, whether in the supermarkets or independent merchants, are sold mainly by country. They might then be divided by region, price or even style, but the first arrangement is almost ALWAYS by country. Most (surviving) online merchants have therefore taken this format as well, and although you can usually filter by many different criteria, country still dominates the thinking.
The other thing most retailers have in common is that they generally list a larger range of wines that may then be categorised or tagged with tasting or buying information to help consumers decide between them. The thinking is, if you give consumers a broader range of choices, they'll find something they'll like … and buy.
The truth is, many consumers are not looking for anything too specific, and in fact are often put off by too much choice. They want a good deal, and a recommendation of a 'good' wine, so may well leave without buying anything.
FindWine decided, instead, to create a list with only 54 'slots' that represent 6 different price categories across 9 different 'styles', and find just 1 wine that is a good example for each. The prices vary from under £5 to £15+ and the list of categories includes "zippy" whites as well as "soft-isticated" reds, so should appeal to lots of consumers.
I think what these guys are up to is very interesting, especially as their model allows them to buy good quality wines in small parcels so they can keep things fresh and change regularly. All we need now is a bit more interaction and visibility from the faces behind the business to demonstrate their passion for the wines and give us confidence they are choosing interesting wines for these 'slots'.
On that note, watch this short interview I recorded at the show with John Critchley, one of the guys behind FindWine:

If you have used them, or tried their wines, do let me know what you think of their model and their wines. Is anyone else doing something similar?
(Update: I apologise to Mike Howes as this is in fact John Critchley, Mike's partner at FindWine who I identified incorrectly in the video)