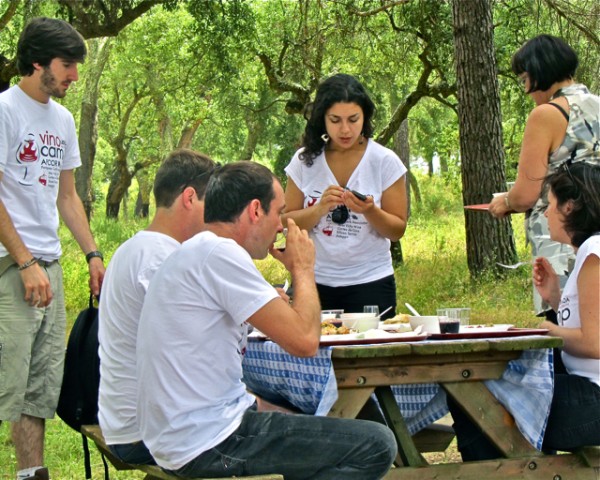 What happens when you step out of your own "filter bubble" and participate in open discussions? We all need our assumptions and outlooks challenged on a regular basis to encourage ideas to develop and for the events to meet the actual needs of our audience, not just what we think they are. Gabriella decided to attend Vinocamp Lisboa to do this with a great bunch of friends and here are some of the lessons learned.
For those of you unfamiliar with Vinocamp, it is a technology and wine un-conference co-founded by Grégoire Japiot and Miss Vicky in 2009. Based on the Barcamp philosophy, the conference aims to merge wine and technology through informal participant initiated workshops as opposed to formal top-down lecturing.
Though previous editions of Vinocamp were hosted in Paris, Beaune and Carcasonne, this one was the very first to have trekked off French terroir and onto the Opaz home stomping ground of Iberia; hence, we felt it was doubly-imperative that we supported the event. Additionally, as we're always trying to diversify the European Wine Blogger's Conference (a Vrazon project), it was only logical that we spread the good word among groups that we typically don't have enough interaction with (e.g. the French – a group very well represented at the last EWBC). So last week, I hopped on a plane and headed west, and returned with many great topics churning in my head.
The Power of Presence
Living in a virtual bubble, we have a tendency to assume that our support of an event through Twitter, Facebook, Livestream, etc is powerful enough to make a significant impact. We retweet relevant information, offer a salient comment on blog post, or simply parlay questions on live video, thus showing our interest in the given discussion. Though this methodology has its merits, the power of one's physical presence, especially if you're adding to the conversation, outweighs the virtual presence. Relationships are stronger when people come together in the same physical space, and the goal of what we do online should be to create more offline interaction, not replace it.
Lesson: A physical event, like the European Wine Bloggers Conference or Vinocamp, demands physical presence in order to get the most from it. By attending, I'm not only showing support for the event itself, but I'm transforming virtual relationships into solid and hopefully, meaningful, ones.
Question: How do we get more of our virtual friends to meet us, and each other, in person without having to pay to travel all over the world?
Virtual Versus Physical Events
Vinocamp also highlighted the big difference between a virtual event and a physical event. More specifically, why doesn't Vinocamp and the EWBC add a virtual component to their physical events? Clearly, I can't speak for Vinocamp, but the EWBC has always maintained that our event is a 3 day physical conference that grew from our personal desire to brainstorm in the same room and network with fellow content creators. However, back in 2008, when the EWBC was first launched, the idea of a virtual conference was relatively nonexistent in the wine world. Popular virtual events like Wine Blog Wednesday and Taste Live were active, but even they were in their infancy. Today, there are hundreds of niche virtual events taking place around the world, and their popularity is growing rapidly.
Lesson: We need to push ourselves to think outside the box and utilize technologies in innovative and useful ways. Just because an event has always been physical doesn't mean it can't utilize alternative technologies throughout the year.
Question: If our physical community is strong and continuing to grow, wouldn't a virtual event that allows participants from 30+ countries to connect and network also be of use? Could there be a way to nurture the community during the year by providing a platform where people can pitch their current projects, potentially finding people interested in collaborating, consulting or supporting their project?
Formal Versus Informal Events
An unconference, such as Vinocamp, allows participants to pitch their discussion topics at the event in an informal and relaxed setting. The advantage of this being that participants can take relevant topics and debate them, sparking new ideas and questions in a group setting.
The EWBC, on the other hand, because participants don't already know each other and there may be language barriers, has worked on a slightly different basis: creating panels and keynotes around relevant topics so participants can learn from some great practitioners, but they can also hash out their questions during the various networking times that are plugged into the program.
Lesson: After last year's event, we realized that debates aren't as relevant as hands-on experience. Learning without practicing doesn't translate to education. This is why we've changed the EWBC program to incorporate more practical application in our workshops, giving everyone a chance to practice what's presented. Through the 4 streams of communication: photography, videography, literature and speaking, participants will walk away with experience of what they've been taught.
Question: Come 2012, should the EWBC rock the content even further to incorporate a form of unconference model, whereby participants from all walks of life, can pitch their discussion topics at the conference itself? Would you be willing to suggest content and lead workshops?
Bridging the Online Language Gap
When we created the EWBC in 2008, we had no idea who we would attract, and as a result, we made a conscious decision to have the content in English, in part, because it was our first language and the agreed "international" language. Little did we know that we would attract 30 people from 11 difference countries! Was it a success? Absolutely, because despite the fact that not everyone spoke English as their first language, between sessions, people quickly switched to whatever language was necessary to communicate with fellow participants. Call it a little slice of the United Nations. It was awe-inspiring, and on that final evening, as 15 of us sat on a terrace in the heart of Logroño with a full moon and large beer in hand, there was a heartfelt smile on all of our faces that the cultural gap can be bridged.
Today, the conference has grown massively, and despite our best efforts to make people feel warm and welcome, challenges always arise. This is normal with any event, but what makes this challenge interesting, is that the ongoing issue of intercultural communication has become a sticking point to all social media discussions.
For example, at least year's EWBC, it was the first time that the French bloggers adopted the #ewbc hashtag and began chatting with one another in French using it. From my understanding, the concern was that they would be seen as trying to separate themselves from the rest of the community, but instead, they drew in French speakers from around the world asking questions. This is exactly what we want, because it helps create dialogue, discussion and debate across all cultures. Language should enhance the discussion, not block it.
Lesson: Miss Vicky Wine brought up a fabulous suggestion to bring on informal language ambassadors to help participants feel supported and included in their given languages. Essentially, they could be 'point people' listed on the website willing to answer questions in that particular language. The additional suggestion of having live interpreters in the language of the host country was equally appreciated (but will require a generous sponsor!) Check out Ryan O'Connell's post on the topic as well.
Question: Is this enough to solve the language gap? Are there more ways we can help people feel included, especially in the host country?
I don't have solid answers for any of these questions, but events like these, not to mention the North American Wine Bloggers Conference that will take place next month in Virginia, will help the wine trade rethink some attitudes and bring to light some truly innovative ideas. And of course, we always welcome your feedback!