Today, in case you had not already been deluged by tweets about it as I have, is International Grenache Day. Today we celebrate the Grenache grape, which has been called an "unsung hero" of the wine world.
Grenache remains mostly under-acknowledged in the world of wine – a "supporting cast member" or "the girl next door." However, the potential for Grenache's popularity is huge, with its juicy, luscious fruit, warm spice, balanced acidity and supple tannins. An aim of IGD is to create a wave of familiarity and interest so that one day people will walk into their favourite bar or restaurant and ask for a 'Glass of Grenache' as they do currently with Pinot Grigio or Merlot.

(from: Grenache Symposium announcement)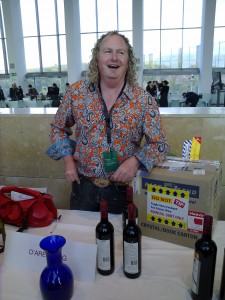 Does it mean anything "official"? No! There is no UN list mentioning this day or this campaign, but it IS an excuse to taste some new wines with friends and share the experience – something social media is very good for.
The idea actually came out of the first International Grenache Symposium held earlier this year in France, and attended by an elite group of winemakers, journalists and other wine experts (yes, I was invited I'll have you know, but I couldn't go, so there!). To their credit they talked a lot, and probably drank a lot, but they also thought it would be worth starting a little ACTION campaign we could all join in on … so I believe that Chester Osborn, respected for both his wine making vision at d'Arenberg in Australia but also for his quirky fashion sense, first suggested that the 24th of September 2010 should be International Grenache Day.
Today, we are encouraged to try a Grenache based wine, learn about it, share it with friends, wear loud, funky clothes, and record the event in photos, words or video and share it with the world.
GRENACHE LOVERS UNITE – for the First Annual International Grenache Day!!

A global movement is afoot, to put Grenache in its rightful place on the wine map and we hope you will join us!

On September 24th, 2010, events celebrating the Great Grenache Grape will take place around the world. We're asking all of you Grenache fans to approach your neighbourhood restaurant and/or favourite wine retailer (or use your own business, if applicable) to feature a special Grenache-centred activity. Maybe a sales promotion, a wine-tasting, or a special restaurant dish/menu designed for Grenache pairings… anything goes, for the greater good of Grenache!
I will choose a wine later (I have quite a few options in my wine rack) and I hope to encourage a few more to join the fun on twitter and facebook – and if you do join in, let me know.
Related articles by Zemanta