Do you like wine? How often do you get to taste it? I don't mean drinking it, but tasting small amounts of many different wines, either to find out what you might like or to know what to buy?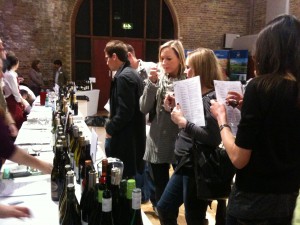 Those of us who work in the wine business are lucky to get invited to tastings a lot – for our own education, information and ultimately to help bring the customer new wines in our shops, restaurants and wine columns.
But the wine buying public doesn't get this opportunity often enough (but see below for a list of some fairs VERY SOON).
One of the BEST ways to get to do this is to go to a wine 'fair' (exhibition) where there will be many different wines present in one place. The entry fee hopefully guarantees that there will be a range of quality wines available, and also acts as deterrent to those who want to take (dis)advantage of 'free' alcohol to over-indulge.
Unfortunately these events can easily be a little overwhelming and confusing, and all that alcohol might make remembering what you 'learned' a little difficult. So here are a few pointers to make the most of these events, and below are a list of upcoming events I suggest you check out:
Have a plan: Don't

just

"go to taste". The best way for wine lovers, amateur and professional alike, to get something out of a tasting is to have a specific objective in mind. There will ALWAYS be too many wines to try them all, so how do you focus? It doesn't matter whether it is "Wines for Christmas dinner", "Wines under £10", "Pinot Noirs", "Favourite wines I cannot pronounce" … as long as you have a mission, you can easily decide whether to stop & sip … or move on.
Set a wine limit: Most of us struggle to differentiate between wines after a while. Professional wine judges might taste 200 wines in a session, most of us struggle after 20. If you set yourself a limit, you can politely refuse to taste through an enthusiastic producer's entire range but dedicate your attention to a specific wine.
Set a price limit: If you are buying wines, there is a temptation to try lots of lovely, expensive and unusual wines – but if you are not going to buy them, does it help? Remember your plan, and your limit. You can always taste a few 'extra' wines before you leave if you have the stamina and time!
Prepare your visit (but be flexible): Most fairs will print a list of exhibitors and wines in advance. If you get a chance, make yourself a little map and plan of which stands are likely to be most interesting … but keep your eyes open as you go from one to the other. Don't stick to it too rigidly, but it is better than wandering aimlessly and potentially missing something interesting.
Go with a friend (or three): There will always be a time you need  second opinion, or simply someone to help you get out of a hard-sell pitch. But more than anything else, wine is social. Even wine tastings are more fun in the company of friends.
Make notes: We've all done it. Found a great wine, been absolutely certain we'd remember it, then promptly forgotten its name.

When you taste something, make a note

– positive AND negative. It'll help you when you are next looking for what wines to buy.
Bring a camera: Notes are great, but our minds LOVE pictures. If you like something take a picture of the label. It saves a lot of unnecessary writing and will also help you share your favourites with friends.
Be relaxed: The wine 'experts' (producers, importers, journalists, etc.) are there BECAUSE OF YOU! They need to impress YOU, not the other way around. Wine is meant to be fun.
UPCOMING WINE FAIRS (London)
So, with this plan in mind, where can you taste lots of wines in London in the next few weeks?
15-17 October Fine Wine Fair, Chelsea Old Town Hall – @finewinefair
A whole weekend of great quality wines. Well known producers will be showing their wines that are a cut above what we normally buy, but are still "affordable". A great way to taste wines that will impress friends and family at Christmas, but don't require a second mortgage. There will also be 'personal shoppers' to help you navigate the room, PLUS Spanish food delicacies .. and CHOCOLATE. What are you waiting for?
I'll be going to this one and tickets only cost £20
6 November The Wine Gang Xmas Fair, Vinopolis – @winegang
The second edition of this fun event. The Wine Gang taste wines all year for their monthly newsletter and their top scorers are invited to show their wines at the tasting. Lots of masterclasses and wine tours. One day only, and you need to book a specific session, so book early.
Yup! I'll be at this one too
13-14 November Decanter Fine Wine Encounter, The Landmark Hotel – @decanter
Decanter Magazine puts on several of these events a year and a re a chance to taste wines from the world's top producers. Lots of high end wines, with prices to match, but the chance to meet some names that will impress even the most dedicated wine snobs!
Oh, and while we are at it, check out one of my favourite wine fair videos – with Olly Smith as the Pied Piper of wine: