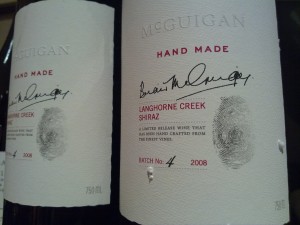 I am extremely privileged to do the job I do. I work with some great wineries, travel to beautiful places and meet all sorts of interesting wine trade people; winemakers, marketers, writers, travel experts, art aficionados and more. Some of these I meet because of the paid work I do, others I meet for the stuff I do which is not paid for (like this blog). Either way, it makes me want to share the experiences, hopefully in a way that inspires people (rather than in a sort of nah-na-na-NAA-na sort of way!)
I say this because amongst these people are reasonably well-known individuals that many wine drinkers will have heard of and would actually love to meet and get to know. What often amazes me (as I'm quite new to this game, to be honest) is how lovely, genuine and fun they can be, yet how seriously I expected them to be before I met them. Many of these 'celebrities' (for the lack of a better term for well-known individuals whose names are recognisable) meet each other for interviews, at tastings and even informally, but the chances for regular wine drinkers to meet them are rare – and usually involve travelling to the winery, expensive wine dinners or really busy wine shows.
Today I met someone who is not only is responsible for much of the Australian wine we buy from supermarkets and specialists such as Majestic, but was also recently voted the 2009 IWC White Winemaker of the Year for some cracking prestige wines too.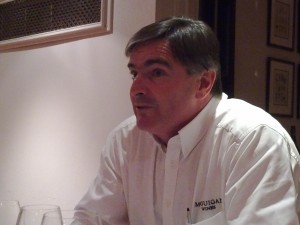 Neil McGuigan was on hand, along with Peter Hall, to talk about his wines, his philosophy and generally get us excited about the quality of today's Australian wines – they are no longer just simple, fruity wines ("sunshine in a glass"), but competing at the highest prestige levels as well.
To make his point, a lunch was organised to match Michelin starred FRENCH (!) cuisine from the lovely Roussillon, with the wines of the McGuigan stable. The wine and food were both excellent, and were a surprisingly decent match for each other (the best match being the unusual sesame seed biscuit on the dessert with the Botrytised Semillon). The foodies present will tell you more details about the food (I will include links below as they post), but the wines were very good and very different from the popular image of "Australian" wines (I've recorded some brief thoughts below – unusually for this blog, but couldn't really not include this here). If you haven't done so recently, check out premium (£15+ per bottle) wines from Australia's cooler regions and see what you think.
It struck me what a fun, relaxed, knowledgable and entertaining guy Neil was, and it seems a shame that he does not have a way (at the moment) of sharing his views and personality directly with consumers. As I said after meeting Rod Eastman, winemaker at Craggy Range, at a similar event, these are guys that could teach us so much and I'd love to learn more about their wines, their country and their philosophy DIRECTLY from them, via social media if necessary, as I'm sure would many others.
I seem to be a stuck record on this, but it is becoming my "mission" to get winemakers and wine writers to embrace social media channels and give a boost to the range of voices and content about wine outside of the US. I remain hopeful! Look out for McGuigan TV coming soon (I hope)
======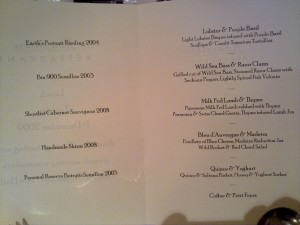 Other posts about the lunch:
Mathilde Cuisine post – France – Australia: A well-balanced match
Laissez Fare post – McGuigan goes Walkabout to Roussillon
The Wine Sleuth post: Neil McGuigan and his Handmade Shiraz at Roussillon
Spiltwine post: Find your perfect match without online dating
The stars were the wines we had with the food, namely:
Earth's Portrait Eden Valley Riesling 2004: an evolved, kerosene nose and elegant Riesling, great body and honey edge too; worthy multiple-award winner
Bin 9000 Semillon 2003: crisp, fresh and zesty style, despite some age. Great food wine!
The Shortlist Coonawara Cabernet Sauvignon 2008: a touch herbal (leafy, sage) on the nose now, but still very young. Elegant tannins, very good
Handmade Langhorne Creek Shiraz 2008: amazingly soft, luscious forest fruit and balanced oak ageing – still a baby, but great wine
Personal Reserves Botrytis Semillon 2005: nice to taste a quality botrytis wine from Australia, made only in a few 'lucky' years. I love dessert/sweet wines and need to learn more about Australian offerings