French event sales site Vente Privée has added wine sales to its product offering in the UK, and they may be the ones to make this model really work.
This felt more like a fashion event than a wine tasting. There's a reason for that.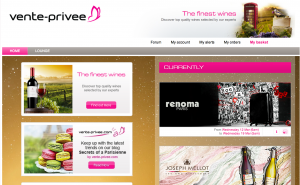 Instead of the acres of table-tops loaded with glass bottles, we are greeted by several hosts who would not look out of place at London Fashion Week – the professional, attentive, smiling PR team and the fashionably-dressed management.
At the end of the upstairs room of the appropriately French Compagnie des Vins Surnaturels, constantly drawn to his smartphone, but dipping into our conversations occasionally and coolly, is Xavier Court, the man we've come to listen to.
The occasion is the launch in the UK of Vente Privée's wine offering. Vente Privée is a French e-commerce site that pioneered the online flash sale model, that has not only survived far longer than most internet brands, but expanded to cover 8 European markets and with a reputed turnover of €1.3 billion from 20 million registered customers.
Impressive numbers, but what do they mean for the world of wine retail in the UK?
Flash sales, or "Event Sales", can take different forms, but they are about offering attractive products, at substantial discounts, for a very limited period of time.
The image one might conjure up is of cheap, overstocked products pushed by spray-tanned presenters on TV shopping channels, and some wine sales sites could be accused of following that path, and having failed. Vente Privée's model, driven as it is by its base in the world of fashion, is different to this image.
The positioning of the site is not simply to offer discount sales, like Groupon for example, but to create a virtual brand 'pop-up' shop that communicates the brand message to all those who browse, even if they do not, or cannot, buy. With around 20 million active shoppers and prospective buyers in Europe, this is a powerful driver on its own, but it may also encourage many new customers to trial a product and potentially become converted to the brand. It isn't so much about getting wine shoppers to buy against the ticking clock, so much as encouraging casual wine consumers to buy "on impulse".
As a wine commentator I am not alone to be worried that, once again, it sends a message to consumers that wine should only be bought "on sale". However, as a committed wine consumer, I should also say that I'd be willing to suspend those worries if a genuinely attractive offer came along.
Admit it, we're all the same, we do love a deal. The question is, what is a "genuinely attractive offer"?
Real wines: Vente Privée usually negotiates directly with the winery brands and so gets their buy-in and targets high-end wineries. After all, they are offering a one-off promotion, where they create the content, including video recommendations from respected wine professionals, give the brand the right to approve it, and then display this advertising message to thousands of targeted consumers.
Real discounts: The price has to be a genuine offer because pricing sites such as wine-searcher.com make it easy to see if the "retail price" being used is accurate, and if the offer is real – a site like Vente Privée cannot afford to get a reputation for inaccurate offers.
The list of winery brands is quite impressive already, with Chapoutier, Chateau Giscours and Albert Bichot already on the site, so these are not cheap imitations, and with a strong French market for wine sales, the prospect of maintaining this level of quality in the UK is high.
Vente Privée will face several obstacles, including:
long delivery lead-times (approximately 3 weeks from order, to receiving wines from the winery, repackaging, dispatching from their dedicated warehouse in Beaune, then finally the delivery to the UK)
additional costs (extra delivery charges, plus UK Duty costs)
a competitive wine market
Others have tried this, such as the launch of Lot18 almost exactly two years ago but closing only four months later. So will this model succeed in the UK when others have failed? I believe it can, and probably will.
The key difference is that Vente Privée is not a wine retail business, it is a branded sales business. It already has a massive audience, and a great deal of experience delivering branded products to consumers. It is ADDING wine to the list of options for shopping-savvy regular consumers, not trying to change the habits of confirmed wine buyers. The wine market will only be a small fraction of the business, but an attractive one if they achieve their target turnover of up to €2million in the first year. This would make them one of the largest online wine retailers in the UK, despite the small percentage of their total business.
So why do this at all? Xavier Court admitted that it is not all about the wine itself. Vente Privée launched in the UK around 2009 and grew its member numbers rapidly, but Xavier admits that the product offering did not match that growth, and it takes a big effort to get unimpressed customers to come back to shop.
Today, Vente Privée has 650,000 registered members in UK but only a small fraction return to the site regularly. The decision to add wine sales at this stage is not only to diversify the offer, but also because like the UK supermarkets, Vente Privée's research shows that UK consumers love a wine bargain, and those who do shop for wine also spend above average on other products.
"Wine so efficient on Vente Privée because it is about impulsive buying, … a game, … pleasure." says Xavier Court, and he does seem to know his audience.
Vente Privée needs wine to perform well in the UK in order to invigorate the sales across all its brands, and because it has the experience, the deep pockets and existing contacts, it has a very good chance of succeeding.