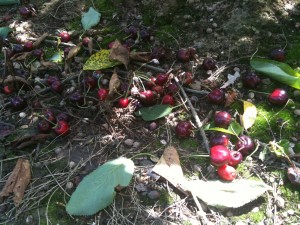 I was reminded of an important lesson in the wine business. Nature is in charge!
My family was given a present of the rental of a cherry tree (through a scheme with an orchard in Kent) where we can come down and pick all the cherries when ripe in exchange for paying for the upkeep of the plant in advance.
Two weeks ago, when a different variety of cherry was ripe and ready to pick, all was well. Unfortunately, a combination of rain and warm weather over the last week has meant that when our tree was due to be picked, mould had set in.
When we finally made it to our tree, for a family picking day with a picnic, I would estimate that 60-70% of the cherries were already affected by over-ripeness, mould or insect spoilage. Not fun. however, the truth is that a well managed cherry tree produces so much fruit that the little we collected was a LOT more than we need, so it was fine.
But, that's not the end of the story.
We don't mind. We don't live off cherries (although my daughter would be happy to try). We only had 1 tree in an orchard of many thousand. But many of them were similarly affected. This farmer had been clever enough to shift the risk on to us by "renting" us the tree, but imagine if he had not. He would have had to sell the cherries themselves, and in that case 70% of his annual income might be lost due to bad weather.
This is the same for grape growers. Sometimes it doesn't matter what effort, skill or investment you put into your vineyards, Nature is in charge. A single hailstorm, an unseasonal shower or two, or winds at the wrong time of year can ruin the entire crop. You would have nothing to show for your efforts at the end of the year.
As much as we develop the technology in the winery to make clean, reliable and safe wines, we are  TOTALLY dependent on Nature delivering us the grapes to make wine from, and if something goes wrong, there is no Plan B.
I often remind people that wine making is really just glorified farming. Today, I reminded myself too!
Related articles by Zemanta