Last week's Access Zone activities at the 2011 London International Wine Fair (LIWF) were not only great fun and a way to spread the word about social media in wine, but they seemed to strike a chord with the wine trade present.
Gabriella, Ryan and I were very pleased with the buzz around the fair and online about the range of events, seminars, projects and announcements that Vrazon helped to make happen on the relatively small space of the Access Zone. After all, that was the idea. This wasn't intended to be another "theatre" for presentations, but an interactive space where we could start discussions with a presentation, then have as much participation as possible. As Ryan Opaz observed:
"The only way this will work is if the audience interrupts a lot."
Every major announcement was well attended, with participants filling the aisles and following on the livestream. We are extremely grateful to all those who took the time out to listen, ask questions, answer queries and generally make the experience of the LIWF as useful as possible.
The archive of the live access zone video and interviews can now be browsed; more polished videos will take a little longer, but BIG thanks to MadCatMedia for making the magic happen
Day 1 – Tuesday 17th May
The Access Zone really kicked off with two big events on Tuesday – the social media Q&A sessions with ourselves and other volunteers, and the launch of the Disrupt Wine (you will be able to learn a lot more about the Disrupt Wine on the dedicated site being built).
Where else would you get the combined talents and different perspectives of Wink Lorch, Louise Hurren, Andre Ribeirinho and Ryan O'Connell on a roundtable? It was a lot of fun for Ryan and me to moderate and be involved in. The overall message from these discussions could probably be summed up a:
"Be yourself, and good stuff will happen"
It was also amazing to be able to create a blend of three different varieties from three different winemakers in three different countries – and made on the stand! We are very grateful to Thierry's who took the brave step of returning to exhibit at the LIWF by investing in a stand that would sit alongside the Access Zone. Most importantly, they also agreed to the concept of developing a pan-European wine blend on the stand in only three days. It was a privilege to work with Markus Huber (of Weingut Huber in Austria), Emmanuel Laurent (of Rodet in Burgundy) and Giorgio Flessati (of Viña Falernia in Italy) on this project. Evidence, if any was needed, of their own commitment to doing something different and offering creative, fresh thinking to the UK wine trade.
We ended the day with the visit by Naked Wines and their archangels, learning about their latest developments and watched them select a range of new wines. Naked Wines are now also listing the Disrupt Wine on their new marketplace – do check it out and get involved.
Day 2 – Wednesday 18th May
The Wednesday was time to showcase Vrazon's other main projects, the Born Digital Wine Awards (BDWA) and the European Wine Bloggers Conference (EWBC). Congratulations to all the winners and runners up in each of the 5 categories of the inaugural BDWA, many of whom, like Wink Lorch, Tim Atkin, Richard Ross and Mark Ryan were on the stand to hear the results. The response was wonderful, particularly as there were some very deserving finalists in the spotlight, including both new names as well as established writers. Congratulations to all of them!
For more details and a full list of finalists and winners, visit http://borndigitalwineawards.com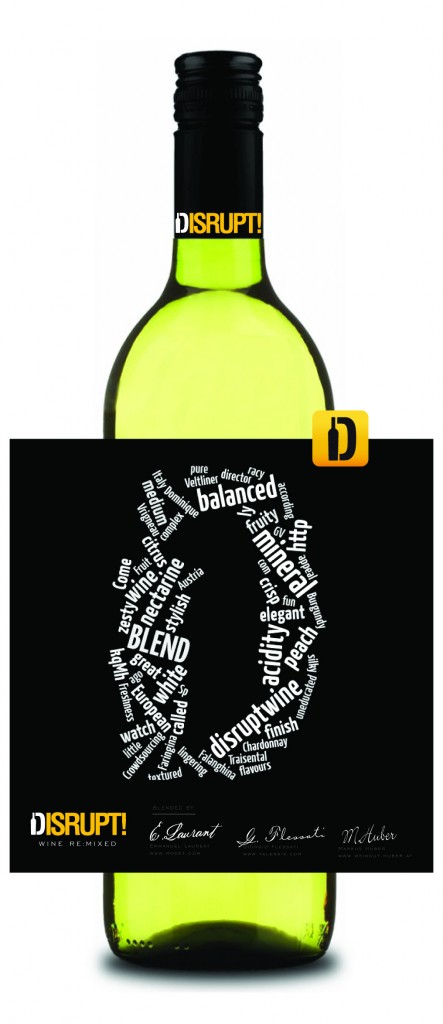 We also took the opportunity to announce the overall theme for the fourth edition of the European Wine Bloggers Conference, which will be "Storytelling", and that George Taber will be our first keynote speaker. Of course, this was all accompanied with a delicious glass of Franciacorta from our host sponsors for 2011. Please visit the EWBC site for more information, and if you are thinking of coming, please do book your tickets soon as the number of tickets is fixed and we anticipate them selling out early again this year.
But it wasn't all about us, it was also a chance for Ryan O'Connell's to give hints and tips for wineries looking to take advantage of social media, and to hear more about what Palate Press is up to to help wine bloggers make money from their blogs – check them out!
Day 3 – Thursday 19th May: The final day
The final day was once again dedicated largely to Disrupt Wine – selecting the delicious winning blend (50% Gruner Veltliner, 40% Falanghina and 10% Macon Chardonnay) as well as unveiling the label design incorporating the audience's own tasting note contributions.
We also had great discussions on blogging by David Lowe (@bigpinots) and another general Q&A with Ryan Opaz. Lots of great content there for reference.
On top of all this there were dozens of great interviews with bloggers, publishers, retailers and winemakers, open tasting sessions and PLENTY of networking, much of it brought to you live but also recorded to watch again.
We hope all those who made it to the stand got something out of it. Not everyone at the fair will have seen the value of Social Media in wine, and it certainly is not a tool to replace everything that is done to sell and promote wine, but it is a great complement for the best brands and people, and we hope to see more great stories being told after this event.
These were three intense days, but with the help of our many friends listed here, as well as the organisers of the LIWF, and Thierry's, we feel it was all worthwhile for all those involved.
See you next year!
Robert McIntosh, Gabriella Opaz & Ryan Opaz