When is an April Fool's joke not an April Fool? When it takes place in March.
About two weeks ago, Philip James the wine entrepreneur behind Snooth & Lot18, and his CustomVine CEO partner Kevin Boyer, launched a fundraising drive for what they called the "Miracle Machine". The machine was going to revolutionise home wine making by creating a table-top device that promised to make any style of wine you liked in only 3 days.
The promise was astounding, and caught the attention not just of eager wine drinkers, but US and UK national media, with articles in the Daily Mail, ABC News, Time, Business Insider, Mashable and many more. According to reports, the campaign generated 500 million media impressions, thousands of twitter mentions and even a 7000 strong list of supporters willing to fund a kickstarter campaign.
However, this Miracle Machine turned out to be too good to be true. The idea was apparently created by the MSL Group for Wine to Water, a charity bringing clean water to communities around the world, which is MSL's pro-bono client of the year.
James and Boyer's creation was in fact a means to catch the attention of the world, and one that performed better than they might have expected. The "M | M" logo for the Miracle Machine was a clever inversion of the "W | W" logo of Wine to Water, just as the campaign is now attempting to invert the idea of the miraculous conversion.
In a short statement issued yesterday, James said, "The miracle of turning water to wine might remain out of reach, but Wine to Water has shown that the real miracle of providing clean water is easily within our grasp".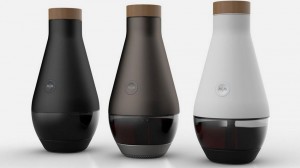 Whilst the stunt certainly generated a lot of interest in the fake product, it remains to be seen whether the individuals and news organisations that were duped will see the amusing side of this "disruptive good will" activity, and therefore whether the activity will end up benefitting the charity. What's certain is that CustomVine and its founders have enjoyed some time in the media spotlight.
For real wine miracles, visit your local wine merchant instead. There are thousands of people making magic happen all over the world.
March 22nd is World Water Day.