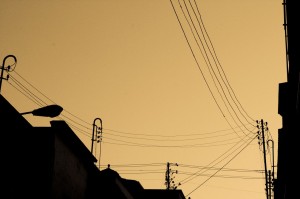 A picture is worth a 1000 words, or so the saying goes. Personally, I'm starting to think this idea is outdated in today's world and even more so in relation to the photos you post online. Today, with every gadget and gizmo in your pocket having the capability to snap a photo, upload it and share it in real time, we the online surfers of this world, are constantly being assaulted with images that are at times brilliant and often quite forgettable.
I was considering this the other day when staring at a rooftop as I walked to my metro stop. The rooftop was nothing very special, but it created a nice negative space when presented against the deep blue sky. By itself, on a wall in a frame with a nice touch of sepia or black and white, the image might have been perfect to complement a room or become a talking point in a conversation. It was then that I realized that the same image when presented online, might at its best get a retweet or two, or maybe a stray comment on flickr, but would more likely stream past in a flurry like one unique snowflake tumbling to earth lost in the blizzard of others content.
Marketing your brand can be quite similar, and I think that to better understand what it takes to make your snowflake stand out you need to understand how to make that rooftop photo more relevant. What the photo of the rooftop was missing is a story. Something that links one idea to another. 1 photo in a post on a blog is nothing. Most likely you can give me any photo you take and I'll find 300 just like it. But if you give that 1 photo context, and a relation to an idea you could keep me interested for a longer length of time.
Taking the rooftop photo example, imagine if I created an album of rooftops from around my town of Terrassa? Or images of the building who's roof caught my attention? Weaving these images with small bursts of focused text in a post begins to give me a reason to stick around and keep reading.
Same thing goes for branding. One mailing, one website(by itself), one Twitter account, these are not going to do anything to further your brand. They provide no value by themselves. It's only when you link them or use them to create layers, of stories, ideas, or contexts, that the real magic begins. If you havea winery with 200years of history, that is one layer, and while in some cases that layer can have influence it does have a expiration date and it really is not that unique in the world of wine. What about the story of today, or yesterday. What other stories are you forgetting to tell?
Think about what your "slideshow" is in relation to your brand. If you do you'll be giving the consumer something to talk about.