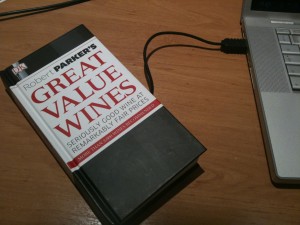 I should first point out that I have never read any other Robert Parker book, magazine or web forum (beyond a few glimpses). I will readily admit that the part of the wine business that he normally focuses on, and they way he does it, have little allure for me.
Much as I love wine, and much as I'd love to drink mature quality wines from Bordeaux, Burgundy, Rhone, Napa, and so on, I am not a collector of wine 'experiences' or points, and I have a limited budget I would rather spend on my family than on such wines. My interest in wine is much more cultural and prosaic.
So, when I was offered a copy of a new Robert Parker wine guide to review by the publishers, I almost automatically said "No!" However, I was intrigued by the title (and flattered to be asked), so I accepted on the basis that I wouldn't guarantee to publish anything, … and I almost didn't.
The guide arrived very quickly and I immediately started to leaf through it. Robert Parker's "Great Value Wines" (seriously good wine at remarkably fair prices) does seem to be my sort of book in theory. Imagine having such a resource?! Great wines at reasonable prices (which means under £20). Superb shopping list ideas and a list of wines to recommend to friends looking for advice.
The country introductions are OK (short and generic), details about regions is limited or non-existent, but it immediately became obvious something BIG was wrong.
This book has a major flaw. It is a book.
Robert Parker has made a career, and considerable riches I'm sure, from minute assessment of wines that need to be tasted and retasted for every vintage and at different stages of their development, mainly so a certain part of the market, the investor, can decide on the 'value' of the wines without 'wasting' them by actually drinking them. Imagine!?
So, how can he possibly publish a book about specific wines that does not contain any vintage information? Each wine, listed by producer by country, sounds great, but has only one tasting note which apparently relates to any year it might have been made.
[update: don't get me wrong, I think vintage differences in modern and larger volume wines are overstated, but Mr Parker makes his living from this]
The problem, of course, is that this is a book.
It takes months to take a finished manuscript and complete the printing and distribution of a book so as to get it in the hands of consumers. If you are writing a novel that is not much of a problem, but if you are writing about wines that are available now, then it is. Today most wine available is 'current vintage' only. Unfortunately for book publishers, this has a tendency to move faster than they do.
Robert Parker is not alone in this as Matt Skinner admitted in November. Skinner was accused of having 'recommended' specific wines from vintages he could not possibly have tasted, for the same reason – they would be available when the book was published, not when it was written.
The 'Great Value Wines' solution was to include some generic sort of tasting note or description and remove mentions of any vintage, although the results are a little artificial (and peppered with evidence that these were, at one time, notes on specific wines).
If only … this were a website!
This book has the feel of someone's tasting database, extracted, filtered, with the vintage field removed, and then printed. It lacks cohesion.
Unfortunately it was probably more useful and easier to navigate in a database format.
However, the same data, posted online, could be a great introduction to these wine. What the web could do is link thirsty consumers to pages that offer greater details and differences of each vintage tasted by Mr Parker and his colleagues, updated regularly, and from there to retailers, producers, bloggers, consumer reactions, etc. No need to reprint, just update.
Now THAT would be worth paying for.
Unfortunately I don't think the paper version is. Sorry!
Related articles by Zemanta