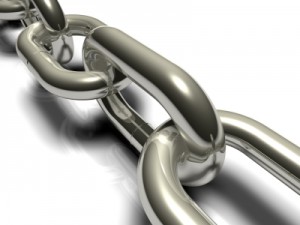 Continuing on with our goal to help improve your wine blogging, we want to tackle an important strategy that is often avoided, typically because many people are under the false pretense that it will hurt them, but it's quite the contrary. This simple strategy can not only bring more traffic to your site, but will also build your rankings in Google or Bing.
Text Links are words that are "hyperlinked" to another webpage, either on your own site or on someone else's. Here's what a hyperlink to Wine and Food Pairing looks like. The words Wine and Food Pairing are "clickable" and link to relevant content which can help the reader learn more about this subject – in this case, my site, Catavino. These invaluable links are why the internet exists. Called the "web" because of these connections, it mimics a spiderweb where the connections build and define the structure. Unfortunately, when sites do not link to others sites, they are virtually cutting themselves off from the rest of the web and isolating their content in a bubble that becomes harder and harder for people to find and explore.
Now for all the geeks crying out that I'm over simplifying the matter, you're absolutely correct, I am. My goal is to show the wine bloggers who never link to anyone (and that list of blogs in your sidebar does not count, they are for all practical purposes useless) that by adding strategic links within their blog posts they can actually help themselves. So please bear with me, and we can all geek out a bit in the comments section below.
For the rest of you, let's follow a few simple rules. We'll call it the "5 Link Rule", which ensures that you have at least 5 hyperlinks in any post you write under 500 words, where 2 of those links point to your website and 3 point to other content on the web. The links that send people away from your site must, however, go to relevant, quality content that will help the reader, not just something random because I told you to.
But wait, you say, linking to other sites doesn't help me! Wrong. Linking to other sites is very helpful to you. Without getting too technical, when you link to another site you're alerting them of your connection. In turn, they can choose to link back to you or visit your site. Beyond that too, it places your site in context with other similar sites.
So how do you do it? Simple. Most web editors have a button that looks like a little bit of chain link, or something that says "link". After you highlight the appropriate text (more on this in a bit) click this link image and you will get a dialog that looks something like this: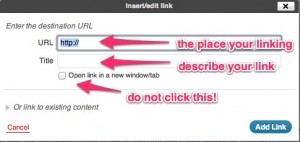 When filling out the dialogue box, be descriptive. First, place the actual link in the first box you see above with the preceding "http://" . Without this, you will be linking to an error page and not helping your site. Second, make sure to title your link. Tell us what it links to in order to help both search engines and your readers who are on devices that need this information. Finally, do not click the "open in a new window/tab". I know we think if people stay on our site it's better, but this is not always the case. I don't want new pages opening up if I don't ask for them, and if you provide great information, I'll make sure to come back to you. Let your readers make their own decisions!
Ok, now back to that text you highlighted to create a link. Remember my food and wine pairing link above? In that case I created a link with the words "Wine and Food Pairing", which is descriptive and useful, but it is also very helpful to Google. Essentially, I told Google that if people want to know about Wine and Food Pairing they should look at the site I linked to because it has quality information on the subject. In addition, I'm also saying, "Hey Google, I know where to find the best content on this subject, so come to me to learn about Wine and Food Pairing too". Now, repeat this a few hundred times, and naturally, over the lifetime of your site you'll be considered a resource for this type of information. What you do not want to highlight and a create a link from are things that are not useful like the words "click here".
For the same reasons above, you also want to link to your own site with keywords that are important to you. So in our case, if I want to show that posting photos on wine blogs is something I know a lot about, I'll make sure to link those words to older posts on the subject! Now, while Google knows you're promoting yourself, it also recognizes that you know your content better than anywhere else. And if you provide good information through these links, rather than spammy promotions, Google will begin to  value your site higher on these specific topics, which is great!
These are very quick tips, not guaranteed tips to get you listed on page 1 of Google, that will make your site a stronger resource for wine information. Also this is presented to show you some simple best practices to make sure your website fits into the wine web more effectively. Nothing here is a trick or a solution that will trump good consistent content. You need to have good material if you hope that anything I say here is going to help you!
So, before I bore you any further, I'm opening it up to questions in the comments. Remember let's keep this general as there are better places to talk SEO techniques, but this is a good place to get the basics of how to link out of the way, and taking the first steps to being a pro-wine-blogger! 🙂
Cheers,
Ryan Opaz
Let me know what other blogging 101 topics you want me to cover on Wine Conversation email me: [email protected]