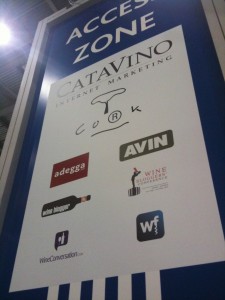 Last week, the London International Wine Fair (#LIWF) saw the arrival of a new breed of exhibitor. This one was called "The Access Zone".
The Access Zone was a combination of Press Office, Lecture Theatre, Consultancy Office, Networking Zone, Business Centre, Free Wi-Fi Spot and Sales Platform.
Instead of a stand being directed by a single company or brand, or acting as a neutral information or service point, The Access Zone was a place where ideas were exchanged, wines tasted and business contacts made. In many ways it was an exhibition within an exhibition. You can read some of the results here (thanks to @gabriellaopaz)
The organisers of the LIWF invited Ryan & Gabriella Opaz of Catavino.net, and my partners in The European Wine Bloggers Conference (EWBC), to help put together a site dedicated to Social Media in the wine business as part of the main event. This 'hub' was then home to all sorts of individuals and companies that wanted to explore the possibilities of social media for promoting wine, including this site as one of the main sponsors.
The users determined the content
What made this stand different was that all sorts of people in the trade were invited to give talks relating to social media tools and strategies. There were interactive talks on using facebook for wineries, wine fault seminars, promoting films, wine blending, personal branding (my own contribution), the launch of the EWBC 2010 in Austria, and more. The USERS determined the content, then stayed there to help others. It was about bringing our online social networks to life, and as such it was important to have the right people at the centre who could motivate and attract an interesting group of friends.
What did we discover? Well, in a show affected by the economic downturn and volcanic ash related travel woes, it was good to have a positive message to discuss. This was especially true online, but also in the trade press. The wine business is very interested in the potential of social media, but still uncertain as to how to achieve this. Having people there, not just us 'consultants', but practitioners, brands with experience and brands who invest in social marketing, they were able to get a better overall picture.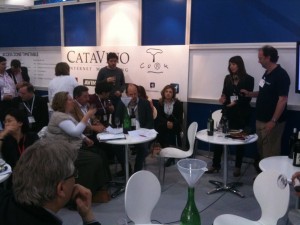 The stand was always busy, with a variety of bigger and smaller exhibitors coming to attend talks or meet someone on the stand, including generic wine bodies, wine journalists and winemakers. The stand also hosted Naked Wines' spectacular selection process where their 'angels' selected a wine (video) to import which then sold out in less than 24 hours! (more videos here)
The Access Zone is not necessarily a model for every future exhibition. In reality, embracing social media is something ALL exhibitors should do, but while adoption is still very low and exhibitors and visitors are interested in learning more in a non-commercial atmosphere, the Access Zone model is probably one that more exhibitions around the world should emulate. I suspect that many other wine events will now look to have such a space, and will invite key players from around the globe to fill it.
Did you come along? What did you think? Worth repeating? Was there other content you would have liked to see?
Well done James!
Related articles by Zemanta