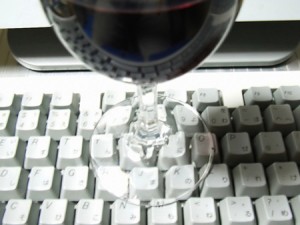 Introduction: For over 3 years, we have worked closely with the Burgundy School of Business both as a company – hiring interns to work with the EWBC, and as a research engine – helping us conduct field studies on various subjects. This year, Aymeric Dehont conducted a host of research for us, which eventually inspired him to create a paper on the fragile relationship between wine and social media. We appreciate Aymeric's hard work putting together his thoughts and trust you will share your feedback with him. Keep in mind this is from a very European perspective. 
How to improve the use of social media in the wine business?
Introduction:
As a Masters student in Wine Business in Dijon, the regional capital of Burgundy, I've continuously questioned myself on many issues within the wine and spirits sector. Yet, one of the most debated subjects has been the apparent effectiveness of social media. After attending the EWBC – Digital Wine Communications Conference, I have come to under that the wine & spirits industry, in general, hasn't succeeded in its use of these new tools. Therefore, I wanted to get a better understanding on how to improve digital communication and what would be the ideal online strategy to follow.
This paper will provide a brief analysis of how social media is currently affecting the wine industry based on articles, marketing analysis and knowledge.
Social media and the impact on marketing
It is true that social media has attracted an inordinate amount of people over the last two decades and currently, almost everyone is using at least one of its platforms. In large part, this is because interaction between each other, and the community, has always been a basic need for humans, referring to the very famous Maslow's hierarchy of needs pyramid.
As observed in the Nielsen Social Media Report 2012, social media is mainly used when watching TV in order to interact and function as 'social care' for customer service. Approximately, 47% of social media users were actively involved in social care. In 2011, more than 80% of the Fortune 500 companies were using some form of social media to connect with consumers.
Companies that are using these tools efficiently are not advertising, but instead creating bonds between themselves and the consumer; thereby establishing loyalty. The customer isn't considered as an asset anymore, but as a person to interact with and to satisfy. Bear in mind that social media is made to connect remotely between humans, and being "connected" means interacting with each other. Advertizing is not an effective means to create a relationship with people, but rather a means to provide a straightforward message to the consumer without receiving direct feedback. 30% of consumers found advertising on social media annoying and only 25% are willing to pay attention to it, which proves that the use of social media is totally different from regular advertizing campaigns.
Moreover, the Nielsen report tells us how social media has impacted modern marketing. Indeed, consumers are now hyper-informed on many products; they continuously need to know more about the product or service they intend to purchase and want feedback from other purchasers through word of mouth. Social media limits uncertainty before purchase, and increases transparency of companies because the consumer gets involved and can have access to the company, thanks to direct contact with employees.
"Social media is word of mouth on steroids" said Amanda Hite, founder of Talent Revolution; Word of mouth is a major communication tool for the wine industry. Indeed, 80% of online shoppers are guided by reviews from other consumers. This is logical considering that shopping remains a social activity where people can interact with each other and share opinions on products. When you buy online, companies want to recreate this interaction between buyers through a digital experience by keeping that community feeling alive. Moreover social media helps to engage customers with brands and companies to change their advertising techniques. In other words, this is what we call Web 2.0, a place to SHARE and INTERACT with each other.
The internet user becomes the one who can tell the stories. For instance, France 24 opened a website, The Observers, where everyone can share daily news content. The pictures they took, the videos they recorded and, moreover, the events they have lived, can be shared on this platform and remain present well into the future. This is a great example of how people directly share experiences and opinions digitally using social media.
What about in the wine and spirits sector?
During the EWBC, I realized that social media hasn't within the wine industry simply because they aren't listening to the consumer. The industry believes that it is the consumer who must be better informed and more actively involved, not the company itself. For instance, in this advertisement from the Center For Wine Origins, https://www.youtube.com/watch?v=wUePmgc5HJQ, you quickly notice that they tell the consumer to "understand the terroir". In other words, they are teaching consumers how to enjoy wine, as opposed to providing information that the consumer wants. Result: 74 views after 1 year!
So how do we improve the use of social media in the wine and spirit sector?
The wine industry, mainly in the US, provides us with several great examples of efficient strategies to follow. Let's focus on some of them:
I really enjoyed the story of Barefoot Wines because it shows how small wineries can compete with big groups, thanks to online communication strategies and social media. Indeed, Barefoot Wines now has 4 times more followers than Jacob's Creek with 370,000 likes on Facebook (135,000 for Jacob's Creek) and more than 10,000 followers on Twitter (2,000 for Jacob's Creek). Why the huge difference? Only because there is someone at Barefoot Wines who is constantly behind his computer interacting with people on several social media platforms.
Engagement is crucial to create a real relationship with people. Gary Vaynerchuck, founder of VaynerMedia, said he can spend 4 to 5 hours a day on Twitter to answer each tweet he receives. Nowadays, he has nearly one million followers. This is a great example of how to succeed in attracting people's attention using social media.
Another interesting story is the one of the Pacific Rim winery, which invested around $10,000 in a social media campaign, in cooperation with two social media agencies: Grow Creative and Anvil Media. Their objective was to digitally educate consumers to gain market share with the retailers with an active communications campaign. To do so, they both created a website, rieslingrules.com and released a book "Riesling Rules Book" (65,000 books sold at this date), to be the leading voices om Riesling wines. The use of social media came later when people started to share their increasing passion for those wines and interact with each other and the winery itself. More than 30,000 people liked the Facebook page. Up until now, Pacific Rim succeeded in creating brand awareness and a fan base online.
Social media in the wine industry creates the opportunity for consumers to rate wines based on what they like. The use of applications on smart phones, commonly called "apps", is extremely valuable for the wine industry because it allows consumers can say what they like, not based on "expert" opinion, but rather on their personal preferences.
In the end, wine is just a drink, but one which links people to each other, and social media is a tool to recreate that interaction online. With Twitter, Facebook or Tumblr, people can share their experiences related to wine and companies can help people connect with each other. A winery available, listening and interacting online with the consumer is a winery which is increasing its brand awareness.
In conclusion
We see that social media in the wine industry is generally being used more frequently and effectively in new world countries. The old world wine countries are still conservative, waiting for the new generation to come up and change the trends.
Social media also creates jobs, as community managers have become more attractive to companies to ensure a successful online presence and use of social media. The objective is to be customer oriented, able to be connected, listening and understanding the consumer's needs. A simple and basic rule of marketing which the wine industry often forgets …
References:
Are you moving with the times?. Harpers Wine & Spirit, octobre 19, 2012,p. 36-38.
Nedelka, Jeremy. Socializing with customers. Beverage Dynamics, march/april 2012, p. 57-59.
Welch, Liz. The way I work : Gary Vaynerchuk. Inc., february 2011, p. 106-109
Nielsen (2012) Social Media Report 2012 [Online], Available: http://blog.nielsen.com/nielsenwire/social/2012/
Melinda Emerson – The New York Times (2012) Using Social Media to Promote an Underdog Wine [Online], Available: http://boss.blogs.nytimes.com/2012/07/06/using-social-media-to-promote-an-underdog-wine/
Tim Weber – BBC (2012) The search for e-commerce 3.0 [Online], Available: http://www.bbc.co.uk/news/business-16706741
Richard Siddle – Harpers (2012) My hopes for 2013: Helen McGinn on listening and talking to consumers [Online], Available: http://www.harpers.co.uk/news/news-headlines/13285-my-hopes-for-2013-helen-mcginn-on-listening-and-talking-to-consumers.html
Ben MacPhee-Sigurdson – Wine Access (2011) The Best Wine Apps for Smartphones [Online], Available: http://www.wineaccess.ca/articles/item/the-best-wine-apps-for-smartphones
Euromonitor (2012) Future Watch: Transparency – How the Social Media Age is Linking Consumers and Businesses [Online], Available: http://www.euromonitor.com/future-watch-transparency-how-the-social-media-age-is-linking-consumers-and-businesses/article