Small world story; as I walked towards my local coffee and sandwich shop, St. Davids in Forest Hill, I got an email to say my Foursquare mayorship had been lost to another user.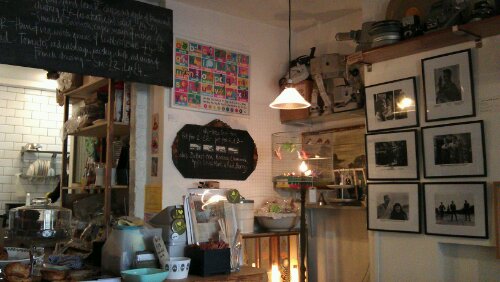 I didn't know this lady, but I have to admit I felt slightly affronted than I should lose this title, despite it meaning absolutely nothing, to someone else. This is my 'hood!
My step quickened and I duly checked in as I crossed the threshold, to discover I'm still two days away from regaining the title.
I brought up her details as I scanned the room. Not only had she taken my title, but she was from Pamplona – either a tourist or temporary resident. Oh, the shame of it! The indignity.
As I waited for my coffee, I replied on twitter, jokingly, that I would soon take my title back.
I heard get phone ping next to me, then decided it would probably be better if I introduced myself now rather than have her discover later I'd been tweeting from 1 metre away.
It turns out she's here for a short stay to improve her English, and really enjoying London. As we talk, comparing the use of social media in the UK and Spain, she mentions she happens to hang out with a very "social" crowd. I ask, as an aside, if she happens to know another person I had met via twitter and Facebook from her region, not really expecting anything. Surprisingly, it turns out they know reach other extremely well …
… and we had made a strong personal connection despite this being a city of 10 million people.
I've been seeing some discussion lately about whether Pinterest was "better" than Twitter, or whether Google+ will replace Facebook. This is not the point. It's not about likes, links, RTs, etc. it is about motivating interaction with a community.
This is not about foursquare, its not about twitter or any other communication tool. It is about individuals having the means to discover common links and connections, leading to real life interactions.
It is about how you, as an individual, business or brand, decide to use them. If you don't bother engaging with people on them, it doesn't matter what you use, you will lose.
If you still happen to believe these offer your business no value, you may be missing out on very real benefits, but don't just chase the "next best thing".
(posted from my mobile, so will have to add more links later).
UPDATE (18:06 added a few links for reference)
Related articles