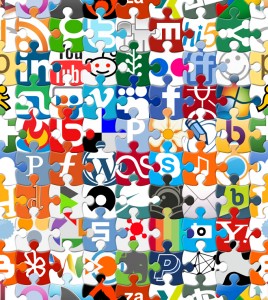 So you have a Facebook page? Great! And a twitter account? Bravo! Even posted a couple of photos, maybe uploaded a video? Good for you. What?? You say you even have a blog? You've posted an article or two and have comments enabled? Wow, great job! You're on your way. Now just stick in there for a few more months, or even years, and you'll be headed in the right direction!
Today, as I wander around the internet, I see more and more blue and white icons showing up on winery websites as I poke about online. Little reminders that businesses are getting online and "engaging" the consumer. Yet today I want to call Bulls***!
Social media is "social"
Seriously, you do not get points for putting an icon on your website. You do not get credit for being 'engaged' because you have a Facebook page. Most of all, you do not get benefits from just pretending to play the game. Social media is about being a social being. I know it's hard to believe but it is. It's not just a marketing tool, it's a way of living. It's a change in how you think about your consumer. It's a conversation that actually takes place online, with real people. It's a conversation that also tends to jump offline into the real world from time to time.
If you want to use Twitter/Facebook, or even start a blog, be ready to change what you're doing. Don't come to me and ask "How do we keep doing what we're doing but at the same time appear more social" because the answer is YOU CAN'T!
If you really want to use Twitter to build your brand, start asking people questions, start engaging your followers, start playing the game. Don't bother putting up a twitter logo unless you're going to answer anyone who sends you a tweet! It's not worth your time, and in the end it will just make you look bad.
If you can't respond to people who ask you questions on Twitter, or engage in conversations in your blog's comments, the humans that use these tools will notice, and then they will ignore you. If you don't want to engage, stick to traditional marketing. It still works, and it can work well. Stick to that, and stay there till you are ready to commit, or ready to hire someone to do it on your behalf.
Just remember that while you can still get away without the "social web" today, those days are numbered, plus the cost of catching up to others later on is getting higher. Social media engagement is at its core an investment of sweat equity. There are no silver bullets. The sooner you start, the easier it will be.  The longer you wait, the sillier you're going to look.
Get going! Follow me: @ryanopaz – And if you don't know how to, well then you have a lot to learn.
Ryan
Image via: Daddy Design