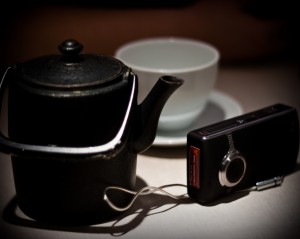 One of the problems with the "should I use social media" discussion is that people who do not, and never will, use these tools natively are the ones making the decisions.
'Digital Natives' are people who were born in a world where the landscape was always "digital". If you extend this thinking you then have "social media natives". I like to say these people are the ones who see no need for a phone book, printed map, or rolodex. I'm almost one of these. I say almost because I still find some things easier to do offline than online, but that is changing quickly.
I start with this because in my daily life, when I want to buy something or learn about something, my first stop, no matter what, is Google. I guess I can see that changing to Bing or Twitter or Facebook at some point, but the fact is that the "web" is my primary destination.
And so, my story begins.
This Christmas, my sister invited my family to stay at a rented house in the Cotswolds for a few days. Great idea! Countryside, hiking, long meals, lots of wine, … a perfect holiday. To make the holiday with family all in one house go smoothly, she gave us all small gifts to help us enjoy our stay. One of these was a not-to-be-mentioned specialty tea company's assortment of teas. Each person received a different flavor based on their personality. A great gift, and while I wasn't at that moment a big tea fan, the quality of these teas released a passion in me. I fell in love with them, primarily due to their freshness and quality. I was hooked, and when I got back to Spain I quickly raced to Google to help me fuel my addiction. It turns out that I was in luck as they were available to ship to Spain at a reasonable price.
One week later I was sitting at home with boxes of new teas and was ECSTATIC about beginning my reintroduction to whole-leaf teas – a reintroduction that made me realize how similar high quality teas and wines can be … but that is for another article. The point is, I immediately starting tweeting my satisfaction and including the account of the relevant company in my tweets. I sent a letter to them by email saying "thank you for your great teas". I even went to their web2.0 website and left comments lauding the greatness of my new favorite teas!
The result: nothing. Not a single "thanks", "good to hear", "Happy you're happy" or other comment. Just silence. Cue the crickets.
I was crestfallen, even heart broken. The packaging was cute, the brand adorable. Expensive, sure, but the quality was amazing. Yet they seem to be fakers in the social world, content to put up twitter and facebook logos on their sites but not 'walking the walk'.
I considered buying from them again. The quality was great but I just couldn't bring myself to do it. I simply didn't want to support a company who didn't appreciate me as a customer. So I returned to Google.
This time I found another company with a similar selection but a little less shiny! Less marketing and more tea. A site that was a bit clunkier, and packaging that appeared a bit dull, but they had what I wanted, so I dove in and bought a few sample packs. After selecting various kinds to see what they were like, I hit send.
And then … turn up the happy music. After only a few hours I received an email … from the owner no less. An email that said:
"Thank you for your order, it appears you have a great selection of samples. I'm going to throw in a few of my own favorites, let me know what you think!"
Yeah! I was acknowledged.
Today I received my new teas. I haven't tasted them yet, but I have 10 new teas to try and a person who is listening to what I think. I'm pretty sure I'll find a few that I like and I am 99% sure that I will be ordering again. They are also going to be talked about on my twitter stream, facebook page and probably over at LiquidAgnostic.com. At the very least, they are going to sell a pack of tea every month or so to me, and probably to a few of my friends & followers. The cost: 1 email.
If that's not a killer ROI, I don't know what is.
I'm off to boil some water.