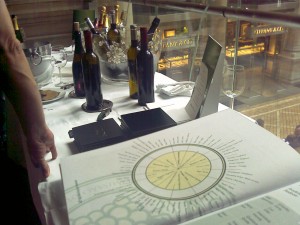 A couple of days ago I attended a tasting of Vinho Verde wines in the rather posh setting of The Royal Exchange by the Bank of England.
The Royal Exchange has a long history of being a trading floor, one where, presumably, merchants found great deals, did their business and went forth to make their fortunes. Today, the building is home to the exclusive shops of the world's most famous luxury brands, established names with astronomic price tags that help customers demonstrate their wealth to others.
It occurred to me that, in some way, the current setting was rather incongruous for Vinho Verde wines. These are wonderful wines, full of amazing freshness, drunk young and preferably with fresh seafood to match. They have been famous within Portugal, and with visitors to that country, for many years, but they have not established a major export market in the UK. They are are about as far from famous luxury brands as possible.
In fact, they are more like the raw materials for those luxury brands – the diamonds without settings or the uncut designer cloth, the stuff that would have been traded here in eras past. Someone, somewhere will be able to turn these great materials into something special, and more profitable.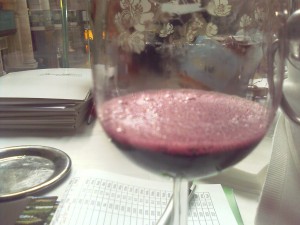 Vinho Verde (Green Wines) are wines from the far north of Portugal, wines of great acidity and freshness, and made from an unusual range of grapes (which is what you'd expect from Portugal, home to hundreds of different, and hard-to-pronounce grape varieties). The majority of the wines I have come across are white, but you also get some rose, a smattering of reds, and I have now discovered, also some amazing sparkling wines.
The key characteristic of these wines is their acidity, but the younger wines also have a certain spritz – not sparkling as such, but some light effervescence that really freshens the mouth. They are not anything like the big, juicy, fruit bombs we get from all sorts of countries of the world in UK supermarkets, but they are an experience that wine lovers should try.
There weren't that many exhibitors at the tasting, but I still didn't manage to taste all of them, but I did try several different ranges. The ones that stuck in my mind were:
Quinta de Lourosa – the traditional white Vinho Verde was very good, but I was particularly taken by the 2005 Sparkling White Vinho Verde made from Arinto (another unusual grape) which was very good indeed. [This Quinta also does some wine tourism and offers accommodation and tours, so worth checking them out if you plan on visiting the area.]
Afros – a white and red pair from a brave winemaker Vasco Croft, who is making Biodynamic Vinho Verde and achieving a truly stunning level of concentration on his wines. The 2008 red, made from Vinhao, is inky dark and particularly splendid.
As with many wines from Portugal, the quality of the wines is not in doubt, but getting more people to try them and understand them is difficult because the competition is so fierce. They certainly have the potential to be recognised as a unique style of wines, unlike anything else in the world that are worth exploring, a little like their northern neighbours in Rias Baixas have done with Albariño, and then justify their luxury brand surroundings.
If you are looking for something a little different, especially if you are planning to match some wines to seafood of some form, try selecting a YOUNG Vinho Verde and enjoy!