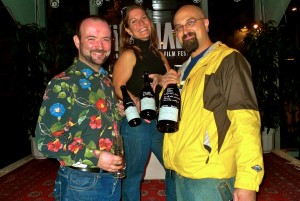 Welcome to the new WineConversation, one where you will find a few new, but familiar voices.
Virtually all blogs begin as solitary endeavours driven by the author's energy and motivation to share some message or theme. In most cases, this energy is lost over time. The world changes. Eventually the themes have been explored and the clever puns have all been made. The blog gets tired, and authors move on.
A great many bloggers have found it easier to continue their online conversations with specific groups of like-minded friends on Facebook and Twitter rather than continue to preach from the lonely soap-box of the blog, and so blogs eventually die.
However, if you driven to create content as well as sharing it, you need a platform.
I've long felt that the future for many bloggers was to move on from running all aspects of their sites, from being publisher, editor, author, marketer, ad sales and chief spokesperson, and to pool their knowledge and resources with others and specialise. The effect will be to create bigger, better, more interesting group blogs. These don't have to be huge publishing enterprises such as Huffington Post or TechCrunch, but niche sites as before where content creators focus on producing quality content without the need for the filler stuff that keeps blogs ticking over.
When I started this blog in June 2006, it was only intended as a small place for me to publish a few comments about what I was thinking about wine culture in the UK. I hadn't expected it to become a major part of my working life. I didn't really have any other "social media" channels to participate in – Facebook was not yet available and Twitter was about to launch. However, it grew, partly because I was convinced that this was going to be important for the wine business, and largely because I was getting to know so many cool people.
Two of those amazingly cool people were Ryan & Gabriella Opaz, not only experts on Iberia writing on Catavino.net, but the experts behind Catavino Marketing.
After becoming friends via Facebook (yes, we are a product of Facebook) we eventually went on to create the European Wine Bloggers Conference (EWBC), the Access Zone, the Born Digital Wine Awards and more. It made sense to create a proper structure for all these projects, and so together we are launching a new business called Vrazon (and you'll hear a LOT more on that soon).
This new focus needs a home. It needs a place where all of us can share our thoughts on how social media and new technologies can benefit the wine business. A place where we can inform you about the conferences, events and campaigns that we are participating in, so you might be able to benefit from them too. A place where you can find us easily and contact us with your comments, questions and suggestions.
The obvious solution was this site.
WineConversation was always about the convergence of wine, marketing and social media (well, in the last couple of years anyway), so this is a logical step. I will still be covering these topics, except now the site will have an even greater International focus, it will benefit from an 'Opaz' perspective from the US, Spain & Portugal and it will give the site greater access to Ryan's technical expertise and Gabriella's insight, editorial skills and management.
We are really looking forward to getting started and hearing what you think.
And finally, special thank you to my many readers, commenters, friends and supporters over the first stage of this site's development. I owe you so much! I will continue to have a space for more personal thoughts on wine, UK events and activities over at thirstforwine.co.uk so do drop by there from time to time too.