Interesting research reported on the BBC today:
The level of background noise affects both the intensity of flavour and the perceived crunchiness of foods, researchers have found.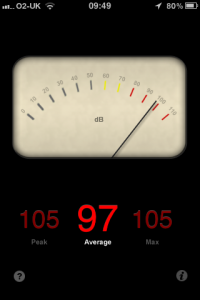 It also makes me wonder about wines. We've known for a while that wines don't taste the same in the air, and I seem to recall it was assumed it had to do with air pressure, but noise also makes sense. If any of your senses is being overwhelmed, then the others will naturally be affected.
I happened to run a dB meter on a recent plane trip ("there's an app for that") and it registered over 90dB – that's as loud as a petrol lawnmower … and you sit in it for hours!
On the other hand, the research also seems to point to positive aspects – where pleasant sounds increase the intensity of flavours, which is backed by anecdotal evidence of "great wine moments" you have on holiday or with a great dinner partner.
Also in the group's findings there is the suggestion that the overall satisfaction with the food aligned with the degree to which diners liked what they were hearing – a finding the researchers are pursuing in further experiments.
It seems that we have, at least partially, now got evidence that wine drinking is a pleasure that requires all your senses, not just taste!
Certainly, airplanes are not ideal wine tasting locations for many reasons, but there's always a good reason to keep testing!
Related articles