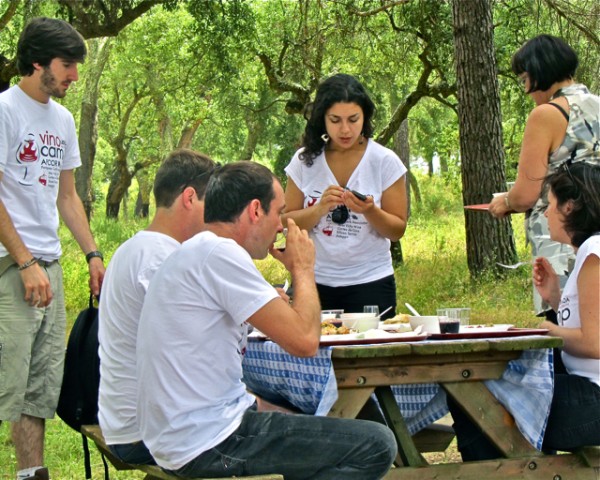 What happens when you step out of your own "filter bubble" and participate in open discussions? We all need our assumptions and outlooks challenged on a regular basis to encourage ideas to develop and for the events to meet the actual needs of our audience, not just what we think they are. Gabriella decided to attend Vinocamp Lisboa to do this with a great bunch of friends and here are some of the lessons learned.
For those of you unfamiliar with Vinocamp, it is a technology and wine un-conference co-founded by Grégoire Japiot and Miss Vicky in 2009. Based on the Barcamp philosophy, the conference aims to merge wine and technology through informal participant initiated workshops as opposed to formal top-down lecturing.
Though previous editions of Vinocamp were hosted in Paris, Beaune and Carcasonne, this one was the very first to have trekked off French terroir and onto the Opaz home stomping ground of Iberia; hence, we felt it was doubly-imperative that we supported the event. Additionally, as we're always trying to diversify the European Wine Blogger's Conference (a Vrazon project), it was only logical that we spread the good word among groups that we typically don't have enough interaction with (e.g. the French – a group very well represented at the last EWBC). So last week, I hopped on a plane and headed west, and returned with many great topics churning in my head.
The Power of Presence
Living in a virtual bubble, we have a tendency to assume that our support of an event through Twitter, Facebook, Livestream, etc is powerful enough to make a significant impact. We retweet relevant information, offer a salient comment on blog post, or simply parlay questions on live video, thus showing our interest in the given discussion. Though this methodology has its merits, the power of one's physical presence, especially if you're adding to the conversation, outweighs the virtual presence. Relationships are stronger when people come together in the same physical space, and the goal of what we do online should be to create more offline interaction, not replace it.