Blogging can't die. Take the original meaning of the word blog; it comes from the contraction of "web" as in the world wide web, and "log" as in to log ideas, or journaling. Today, and forever, there will be people logging what they think about all manner of subjects that they are passionate about.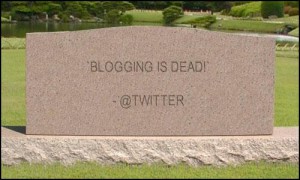 I recently saw the statement on Twitter that blogging is dead. Sorry, you cannot kill an idea (journaling) that has persisted since man first took quill to parchment.
Seeing that we work in wine and discuss wine blogs as part of our job, we should talk about what a wine blog really is.
If you understand the idea of blogging as an online journal and nothing more, you will see that the idea of there being A "best wine blog" is just silly. As is, frankly, any system claiming to rate "best wine blogs". Who is the best "runner"? Usain Bolt, Haile Gebrselassie or maybe Fauja Singh?
People often accuse wine bloggers of not being professional. You're right, sometimes they aren't. We need our industry to understand that there are a variety of types of communicators who write about wine. A wine blogger who writes to tell the story of their personal journey in wine is not the same as someone who writes about wine futures. And they should not be held to the same standards.
Just because you have a degree, MW, WSET diploma, have written a book, or have been awarded every prize for wine literature that has ever existed, you are not a "better blogger" than anyone else. You can't, by definition, be better. You can, on the other hand, be: More persistent, Better at Wine Rating, Better at Wine Science, Better at Wine Educating, Better at anything you wish to communicate about. But you are not better than another person who wants to discover wine and share that discovery with an audience, large or small, online.
The blog part is only the tool, or the physical means, used to log your content. I do believe Robert Parker would have been the first blogger if the software had existed at the time. He wouldn't be the best wine blogger though. He might be an influential wine blogger in certain circles, maybe even indispensable to the industry. That said, I could argue that he is the worst wine blogger when it comes to recommending a wine to my parents. He uses language that they don't understand and talks about wines that my parents are never realistically going to taste.
I happen to be the best wine blogger for my parents. I won an award for it. Really! Ok, so not really, but I hope to one day when my parents finally get around to handing out awards for meaningless family skills.
So, to all you people who think your wine blog is more important than another person's: Get over it! You're one of many. You may be the best in your niche, or for your audience, and for that I applaud you. The truth is that a blog is publishing tool. Go find a cool way to use it. Quit worrying about what other people are doing. There are plenty of audiences out there, find your own. Or if you have it, remember to give them what they want, which I assume is wine content. Publish it however you want, wherever you want, whenever you want. Have fun. Or don't, I don't care.
Update: I was remiss in not crediting the image. Tombstone image courtesy of the Tombstone Generator [Robert]