I just received the latest email marketing campaign from Naked Wines (the UK office – now that they have a presence in the US and Australia this probably needs to be stated), and I'm a little disappointed.
I've always thought highly of their marketing savvy. The move to rate wines not by stars or points, but simply by whether you would buy the wine again, was genius.
No matter what you thought of the actual wine range, they managed to connect with the audience they were targeting, and speak to them in a positive way, involve them in the business, and create a strong user community. It fitted the honest, or 'naked', approach they claimed to favour.
What rankled in the latest email – "Become a wine genius in about 52 seconds" – was that they sent a quiz (I'm a sucker for a wine related quiz, and I had 5 minutes with a cup of tea, and they promised it would take only 52 seconds, so …) to see if I was a "Wine Genius" but instead of a quiz, I got a lecture.
It really surprised me.
There are 6 questions, most of which are slap-in-the-face obvious marketing statements, such as:
"Well, let me see … now, I think I remember studying that at school, just a minute …"
However, two things really surprised me. It wasn't just the questions, but the approach taken to the answers.
The first question was:
Now, I would argue this point. I know what they are getting at, but since they do not define "costs to make" but one could certainly argue that the true cost of hand-picked grapes, made in small quantities, aged for years in cellars and carefully prepared and presented to the customer could cost more than £10 if the winemaker wanted to survive, invest in the winery (and pay off debts), stand out from the crowd, and also pay others fairly too.
The next question was a false choice between traditionally packaged wines and screwcap bottles:
Ignoring the biased "delicious vs average" aspect, there may be plenty good reasons for preferring the traditional packaging (for example, I might like to keep the wine for some years then use my Coravin), but apparently I MUST conform to their packaging mantra, or else!
And this was the second, and major point. Apparently, I'M WRONG.
We hear a lot about making wine more accessible, less frightening and stressful for consumers. I believed Naked Wines agreed. However, it seems that if I suggest that I might like a cork, or that it actually might be possible to believe that wine costs over £10 to make, it is not a valid opinion, and I am simply wrong. Like this: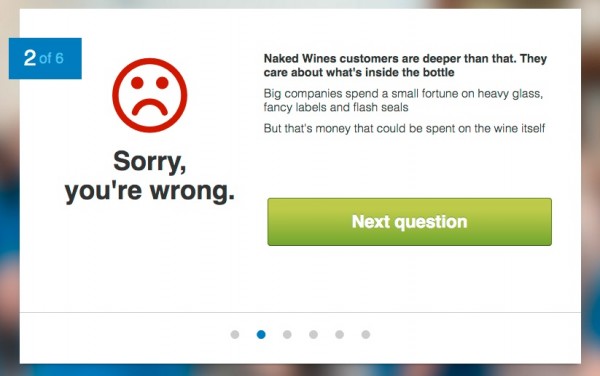 Naked Wines customers are deeper than that! (oh, and that "small fortune" can't be that much since they've told me that it still has to come under £10 all in!)
The good news, is that despite disagreeing with all their statements questions, and being consistently wrong, I am apparently still a Genius and worthy of my £20 discount (you might be a genius too – try the "What's your Wine IQ?" quiz)
I'm left with the impression of a marketing misstep from the team at Naked Wines