A couple of years ago Hardy Wallace and I got into a debate about editing blog posts. His take was that a blog should be raw, from the heart, without the refining that happens when an editor gets hold of a bloated piece of wine writing.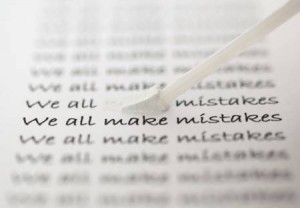 I, on the other hand, suggested that you can still show passion, but that an editor helps to make sure your "raw passion" is intelligible. I was speaking from experience. I am not, as I'm sure many of you readers know (and my laughing wife Gabriella is thinking right now as she edits this piece), the best writer.
Words for me are confusing. The rules of language are confounding. While I know some of the common errors, I do not always spot them when I re-read my own writing. I know there, their, and they're all have different meanings, but when I read them quickly in an article, I understand what the author is saying so I don't worry about which one is used. I really don't care. Maybe I should. I know I should care enough to make sure my dear reader does not have to suffer my errors, so I try to get better every day.
What I want to say to all you bloggers, wineries thinking of starting a blog, or journalists who are leaving the edited newsroom and moving to the wild west of blogging: get an editor. Someone to read your piece before you publish it. Someone to look for the silly mistakes that you gloss over because of your emotional attachment to it. If it were not for an editor, this piece your reading write [sic] now would be unintelligible. You're [sic] understanding of it impossible. Not to mention 3 times the length, with half the logic. 🙂
I remember getting an email a few years ago from a wine journalist whose books I have enjoyed over the years. That person has written books, news columns, and has spoken at wine events for longer than I have been legally able to drink wine. They were telling me they finally took my advice and started a blog. So I rushed over and quickly checked it out. What I found was proof positive that this person had benefited greatly from years of editors trimming down their ramblings. Editors help.
I'm not saying you need to hire a team of proof readers and have each article polished to perfection. A few minor slips are not going to hurt you, but you can ask a friend to read a piece first before you hit publish to avoid the bigger ones. Or, if you lack a friend with time on their hands to help you out, try simply reading it out loud to yourself as the act of pronouncing the words one by one can often show strange logic and awkward phrasing. Also, don't be afraid to play with language. Some of us are better than others, but there is something to be said for freedom of expression, but if your writing style leaves the reader confused, you are doing something wrong. What we need in the end is legibility, and more communication.
If bloggers, journalists, tweeters and others hope to have their content published and taken seriously, then the first step is to make sure we know what you're saying. I would also make a prediction and say that the future of wine writing online will be teams, and not just the 'lone voice' online we think of today.
I look forward to seeing how this plays out as time goes on.
Ryan