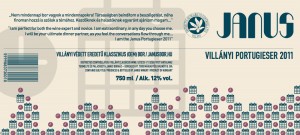 A couple weeks ago I found myself in Budapest for the VinCE wine event – An event that is more consumer focused than trade, but a place to discover new wines and meet new people. I have to admit that I rarely find myself discovering  a wine label, or bottle design, at such events that makes me stop and say, "hey, now that is a great idea!" The wine world is full of copycats and formulaic marketing that usually bores me or fails to reflect the wine that it is supposed to represent. The wine inside a bottle is often either represented by a horrific label with a fancy font and ridiculous food pairing suggestions; or the opposite, by a label that is itself a work of art, meant for a museum, while the juice inside is second rate at best.
This year, one winery did stop me in my tracks to exclaim, "Yes, now that is what I'm talking about!"
Dénes Pécsi-Szabó, a young man from the Janus winery in Villány region of Hungary came up to me after the Gary Vaynerchuck masterclass and asked me to try his wines. Needing a reason to roam around, I found his table in the back corner of one of the main tasting halls, and within minutes I knew it was a good idea. Dénes, having very little time left in the day, quickly showed me his wines and the new labels that he was in the process of switching his wines to. Colorful and patterned I thought nothing of it at first, another pretty label. After tasting one of the wines, I remember noting that at least the pretty label contained some good fruit.
It was at that point that Dénes started to explain the story behind the label and I proceeded to inspect it closer. Turns out the patterns on the label had meaning. I'll let Dénes explain in his own words how he worked with a designer to create them:
We created them with Marton Kenczler, Art Director of Kirowski Isobar. I used to work with him in film productions, and I wanted to bring a designer to create our logo and labels from an outsider world. Marci…had no knowledge or experience in the wine business.

We thought, that the old label is a little boring, as it was created to try to please all consumers and also family members of Janus Winery. We wanted to do something, which we feel[sic] closer to us, looks nice and sticks out of the Hungarian label crowd…

We both felt that the long label hugging around the bottle is a good form for what we want to do. Then I said one or two words about all of our wines, and Marci reflected with the symbols.

Rosé: Fresh, girly
Portugieser: wine for everyday
Cabernet Sauvignon: royal grape
Cabernet Franc: King of Villány Wine Region
Merlot: soft
Syrah: eastern influence, Big body
Using Icons as the base of the design the two decided that each grape would receive its own, unique icon. Therefore, each wine could reflect what was inside the bottle with a few visual cues. By playing with the quantity of each icon, they could give the consumer an idea of what the final wine might offer.
What's interesting is that this winery was not only branding grapes, but branding them in a visual way that overcomes language barriers. Combine this with fun, lyrical label messages that play with the character of the grape, leaving out any silly food pairing suggestions, and they're onto something fun and different.
Now I'm not saying that Janus solved all major problem, or that these are the most innovative label designers and marketers I've come across, but they took a risk to think differently. They realized that people do shop by grape, and by relating these to visual cues, can create deeper branding. Additionally, they stepped out of the wine bubble to consult a designer who is able to see their world differently. Objectively.
Yes this is a moot point for the first time wine buyer. They are not going to know the "system" when they first pick up a bottle, but it is the "plastic bull" idea – where the consumer, if they like the wine, has an easier route to brand loyalty [Back in my wine shop, if a buyer couldn't find a wine for their pizza on friday night, they defaulted to the one with the plastic bull around it's neck]. These symbols, when first noticed, can create enough curiosity for the casual buyer to connect with them, and possibly seek out new combinations. Beyond that, they represent what is inside visually, and thus go much further than most wine labels who rely on fancy art or funny fonts.
I have yet to taste the full range of Janus wines. This will be remedied soon, but I will say that the couple wines I did taste at the end of a long day were showing great potential. Wines that I would buy, without a doubt.
Wine marketing is a challenge in a sea of copycats. Thinking 'different' can be hard to do, but the rewards can be great. Congrats to Janus on their efforts.
Cheers!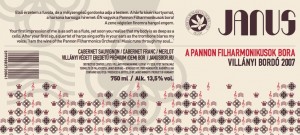 Note: This label shown here has a music note icon. This icon has been added as this wine is the official wine of the Pannon Filharmonics Orchestra. In their mind the wines grapes blend with the music so they are shown together.